The Friendly Games
Sport is a good way of showing the friendship and togetherness which is important to the Commonwealth.
The Commonwealth Games
They are called the 'friendly games' because the competition is between individual sportsmen and women, not between countries.
The first Commonwealth Games were held in 1930 in Hamilton, Canada.
There are special events for disabled people.
There are always athletics and swimming, rugby sevens, netball and lawn bowls.
But there can be lots of other sports too, like boxing, cycling, gymnastics, tennis, triathlon and wrestling.
The Commonwealth Games are held every four years. Most recently, the 2010 games took place in New Delhi, India, and in 2006 the games were held in Melbourne, Australia. The 2014 games will be hosted by Glasgow, Scotland. Visit the official Glasgow 2014 website.
The 2010 Commonwealth Games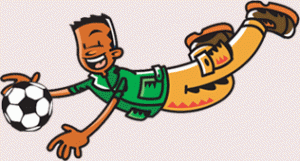 New Delhi, home to 14 million people, hosted the Commonwealth Games in October 2010. This was the first time India has hosted the Games and only the second time the event had been held in Asia (Kuala Lumpur in 1998 was the first).
The Commonwealth Youth Games
In 2011, the Commonwealth Youth Games took place in the Isle of Man. The next games will be in Samoa in 2015. Competitors must be 18 years or younger.
Commonwealth Sporting Facts

Commonwealth countries dominate the world of cricket. Australia has been the most successful country in Cricket World Cups, having lifted the trophy four times – in 1987, 1999, 2003 and 2007.
The West Indies are second on that list, having won the first two World Cups in 1975 and 1979.
The fastest man in the world comes from the Commonwealth. Ace sprinter Usain Bolt from Jamaica is the current world record holder in the men's 100m dash. The 23-year-old clocked 9.58 seconds on 16 August 2009 at the World Championships in Berlin.